From the Vatican...
A letter from the Congregation for the Causes of Saints in the Vatican regarding Blessed Luigi Guanella has been recieved. Along with the letter, an enclosure was attached. This enclosure was a photocopy of BIBLIOTHECA SANCTORUM, vol. VII, coll. 430-432, Città Nuova Ed., Roma 1966. This paper was entirely in Italian, but has been translated into English by a human translator. The biography is now below. The letter goes as follows:
CONGREGAZIONE
DELLE CAUSE DEI SANTI
----------

The Vatican, 15 September 2000

Prot. N. 82-62/00

Dear Mr. Guanella,

The Most Rev. Gabriel Montalvo, Apostolic Nuncio to the United States of America, has forwarded to this Congregation for the Causes of Saints your letter of 22 August last, requesting information about Blessed Luigi Guanella, who was beatified by Pope Paul VI on 25 October 1964.

We are sending you a copy of the entry, "GUANELLA, LUIGI...", taken from the publication "Bibliotheca Sanctorum". At the present moment no supposedly miraculous cure, granted through his intercession, is under study by this Office which could lead to his Canonization.

With prayerful best wishes.

SEAL - CONGREGATIO DE CAUSIS SANCTORUM

Enclosure
______________________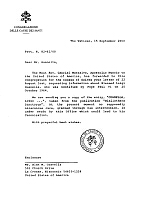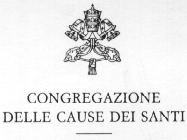 The Letter from the Congregation for the Causes of Saints in the Vatican.
---
BIBLIOTHECA SANCTORUM
vol. VII, coll. 430-132, Città Nuova Ed., Roma 1966
GUANELLA, Luigi, founder of the Servants of Charity (Brothers) and Daughters of St. Mary of Providence! The "Blessed" was born at Francisio of Campodolcino (Sondrio) Italy, on the 19th of December 1842 in a patriarch family of 13 children (ninth!) Since childhood he had a great faith and constant love for work, and a big charity for the poor. Many of his family and hometown people had to emigrate to America in search of work. Luigi was very saddened on this tragic good byes and promised to himself that some day he would help them spiritually! He left his village at 12 years old to school at a (indecipherable word) school in Como. He studied there six years then he went to school to become a priest!
He was ordained on May 26, 1866. His first parish was in Savogno were he built a school and started a young Catholic group (l'Azione Cattolica). He was a target from the Masons because of his write ups. He had to leave the school and also the governor had to put a "veto" on his eventual nomination as a priest. In 1975 he decided to join Don Bosco in Turin. There he gave his "tri vows" (3 year vows!). But in 1878, even if he was very dear to Don Bosco, he returned to his "diocese" where the bishop called him back. In Turin, he was the director of an oratory of St. Luigi (youths). Also a writer of Catholic readings.
The bishop gave him the parish of Traona. He again opened a school for poor children, but the Masons made him close it in 1881. By an accord between the civil and religious authorities, he has to retreat to Picco dell'Olmo, almost confined from the rest of the world. But in the same year, he was given a parish at Pianello Lario. It was Providence that help his (indecipherable word) in this little town. He founded an orphanage and a nursing home for elderly and handicapped; served by a religious community in formation founded in 1878 by Father Coppini. Father Guanella was happy do start working to develop the "mustard seed". He also had a collaborator in Sister Marcellina Bosatta. In 1886 he transferred the operation to a larger place and named it "The Little House of Divine Providence" in homage of the Rev. Cottolengo, Luigi's role model. In 1890, he had over two-hundred children and he called them "good sons". He always trusted Providence, this is why he called his helpers the Daughters of Saint Mary of Providence. Today, the order has over 100 homes and 1200 religious sisters and their community was approved in 1917 by the Holy See.
Also, since 1895, Don Guanella, took vocations and sent them to various seminaries in Italy. This is how he started his second family, the Brothers (actually Servants) of Charity. On March 28, 1908 Don Guanella made his (final) vows with his first companions. The community toady has over 500 members and over 50 houses and received the "Canonical" approval of the Holy See in 1928. And his final approval of the Constitutions in 1935.
In later years he always helped the derelicts, and where three earthquakes but southern Italy, he offered help and shelter. When he was 73 years old, he went personally to the ravaged areas to take care of orphans, homeless, and brought them back to Rome. His apostate was in the field of charity and youth and opened all kinds of schools. He was devoted to Mary (of the Laborer). He reclaimed marsh land by Sondrio and built and institute for the handicapped. He went to Switzerland to reclaim with his word and writing the Catholic faith. He wrote many booklets on faith, religion, and history, like other religious contemporaries. In 1912, he went to America to help the immigrants, and meet the first priest. For his big heart toward the war refuges, he received a gold medal from the authorities in Como in 1915. In 1913, he founded the Confraternity of Saint Joseph for praying for the dying, now counting at 10 million people.
He was very dear to Cardinal Ferrari and Pope Pius X who called him Don Luigi. The pope also gave him the title of "Garibaldi of Charity"¹. Luigi had a stroke September 27th, 1915 and died a month later on October 24th in Como. His Beatification process began March 15, 1939 in Rome and was proclaimed Blessed by Pope Paul VI on October 25, 1964.

---
¹ Webmaster's Note: This is in reference to Giuseppe Garibaldi (1807-1882), an Italian patriot who led the fight for Italian freedom and led the Redshirts who defeated the Kingdom of the Two Sicilies (1860). He also united the Two Sicilies with Sardinia into a single kingdom (1861). (Credit: Merriam-Webster).