Books on Blessed Luigi Guanella
These are the three most popular books about Father Guanella that are in print and readily available. They are recommended to anyone who wishes to learn more about Blessed Guanella and his work.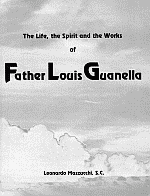 The Life, the Spirit, and the Works of Father Louis Guanella
This is the best complete biography of Father Guanella. It is a must read for anyone who wishes to read more about Bl. Guanella.
Author: Leonardo Mazzucchi, SC (The second successor to Fr. Guanella)
Pages: 515
Illustrations: 70
Imprimatur: + Alphonse, Bishop - Como, December 18, 1920
Obtain from: The Pious Union of St. Joseph
Patron of the Suffering and Dying, Inc.
971 East Michigan Avenue, Grass Lake, Michigan 49240-9210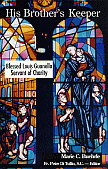 His Brother's Keeper - Blessed Louis Guanella, Servant of Charity
This is an excellent book to get a wonderful idea of what Blessed Luigi and his work is all about. It is a great book to pass on to friends and relatives. It is very interesting without the precise details of the above complete biography.
Author: Marie C. Buehrle
Editor: Fr. Peter Di Tullio, SC
Pages: 65
Illustrations: 22
Imprimatur: Most Rev. Cletus F. O'Donnel, JCD - Vicar General, Archd. of Chicago - July 14, 1946
Nihil Obstat: Reverend Eugene J. McClory
Obtain from: Servants of Charity
1795 S. Sproul Road
Springfield, PA 19064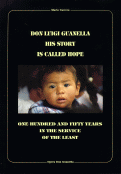 Don Luigi Guanella - His Story is Called Hope
This is an excellent book about the Servants of Charity and the Daughters of St. Mary of Providence. It has a section focused on Fr. Guanella in the beginning and then switches to his continued work in the world today. This is the most up-to-date book about Fr. Guanella available today.
Author: Mario Carrera
Pages: 64
Illustrations: 97
Obtain from: Servants of Charity
1795 S. Sproul Road
Springfield, PA 19064
---
The Nihil Obstat and Imprimatur are official declarations that a book or pamphlet is free of doctrinal or moral error. No implication is contained therein that those who have granted the Nihil Obstat and Imprimatur agree with the contents, opinions, or statements expressed.