Blessed Louis Guanella
The Good Samaritan
To assist the "Favorites" of Providence" - the incurable, the abandoned, the aged,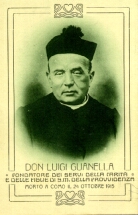 the physically and mentally handicapped, orphaned and needy children - Father Louis Guanella lived a life dedicated to charity. From the seed of a moment of special grace in childhood when he felt a call to care for the poor and the disabled, Father Guanella's work has grown to a healthy, blossoming tree comprised of his religious followers who today still shelter these rejects of society. At his death in 1915, many doubted that his work could continue. He replied that the work was God's work, and that "He who brought into existence people and works will also be able to continue them."
Father Guanella believed, spoke, and acted on the premise that "The heart of a Christian, who believes and feels, cannot pass by the hardships and deprivations of the poor without helping them." His entire life proclaimed the Gospel message, "As long as you did it to one of these my least brethren, you did it to me."