In the Month of Fervor
by Becky Cook
Blessed Louis Guanella, S.C., founder of the Servants of Charity and the Daughters of St. Mary of Providence, held a deep devotion to the Sacred Heart of Jesus. In 1884 Blessed Guanella wrote 30 meditations for the month of June, which is recognized by the Church as the month of the Sacred Heart and Father Guanella as the "Month of Fervor." Father Guanella writes for June 10 on Matthew 11:20, "Learn from me, for I am meek and humble of heart, and you will find rest for yourselves." Father exhorts us to "be meek, bear with patience all the evils of life, be humble, strengthen yourself in suffering" and "spend your life doing good to many, healing the wounded heart of others" and to pray to Jesus by saying: "Sweet Heart of my Jesus, make me love you more and more."
Devotion to the Heart of Jesus was formalized when Our Lord appeared to Saint Margaret Mary Alacoque, a Visitation Sister, around the year 1675, asking her to spread devotion to His Most Sacred Heart. Pope Clement XIII officially approved the devotion that Our Lord gave to the world through her in 1765.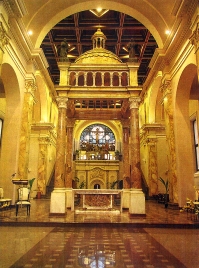 In 1892, inspired by this devotion, Blessed Guanella built his first church in Como, Italy, naming it after the Sacred Heart. This church is now the burial place of both Blessed Louis Guanella and Blessed Clara Bosatta, DSMP, one of the first Daughters of St. Mary of Providence. The church features an impressive replica of the sepulcher of Jesus. Blessed Guanella was drawn to Rome and there he founded the Pious Union of St. Joseph near the Vatican with the Pope himself requesting to be the first member. In 1912 Father Guanella had traveled to the USA and planted the seeds for the eventual founding of another Pious Union branch. This branch has culminated in the organization of a Shrine in Grass Lake, Michigan, devoted to St. Joseph in praying for our sick and dying brothers and sisters.
Of particular importance to the charism and mission of the Pious Union of St. Joseph, Protector of the Suffering and Dying [and to you, its current members,] are two of the twelve Promises Our Lord revealed to St. Margaret Mary for those souls devoted to His Sacred Heart: Promise 4 -"I will be their refuge in life and especially in death"; and Promise 12 -"In the excess of the mercy of my Heart, I promise you that my all powerful love will grant to all those who will receive Communion on the First Fridays, for nine consecutive months, the grace of final repentance: they will not die in my displeasure, nor without receiving the sacraments; and my Heart will be their secure refuge in that last hour."
---
(Credit: Cook, Becky. "In the Month of Fervor" Now and at the Hour June-July 2004: 12.)