Saint Luigi Guanella
A Modern Apostle of Charity!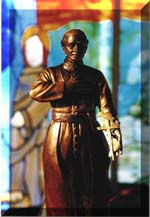 A famous and notable son of Campodolcino, Italy was Luigi Guanella. Luigi was the ninth of thirteen children born to Lawrence and Maria Guanella in 1842. The family was poor but respected and devoted to their religious beliefs and practices. He had it appears a normal childhood for the times. He entered the seminary when he was 12 years old and was ordained in 1866. From 1875 until 1878 he assisted Don Bosco famous for his care of homeless children. During much of Father Guanella's lifetime, Italy was in a state of political unrest. Numerous laws were passed by the anticlerics and socialists restricting and suppressing the works of the church. Father Guanella continued his works of ministering to the homeless, poor, orphans and handicapped. He was a friend and a contemporary of Pope Pius X often appealing to him to help in his works. To continue his works he founded two religious orders, the Servants of Charity and the Daughters of St. Mary of Providence. Both groups are still at work in Italy, the United States and other countries.
Father Guanella came to the United States in 1912 to investigate the plight of the Italian immigrants. While in Chicago he attempted to visit Genoa, Wisconsin to visit old friends and relatives, but was unable to fit in a visit.
Father Guanella died in 1915. His lifelong devotion to charity and good works were recognized by the church and he was beatified in 1964 and canonized in 2011.
(Credit: Venner, Jim. From Campodolcino to Genoa, The Decendents of Francesco Zaboglio. Lakewood, CO, 1999.)